French immersion programs – You open up your phone and scroll aimlessly on social media after a long day. Suddenly, you are transported to the streets of Paris as the musical, beautiful sound of French fills your ears. You watch your screen as croissants, Parisians, and French music fill your screen. Oh, to be living in Paris, speaking French, and feeling in sync with French culture. Whether you are trying to learn more about French culture or the language, immersing yourself in French culture is a good way to do both.
From French immersion programs to podcasts, there are a myriad of ways to achieve the goal of French culture immersion. So, without further ado, here are 6 ways to completely immerse yourself in French culture.
1. French Music
  i. Historical French Music
French musique is perhaps one of the most effective and interesting ways to immerse yourself in French culture. As a beginner to French music, I would recommend one to listen to the Classical era of French music.
The classical era of French music is regarded as the most popular era of French music. In fact, French music is often connoted with beautiful, instrumental symphonies. Classical French musicians like Debussy are notable from that time period.
Listening to older French music is a great way to learn about the history of the country and to get a feel for the culture! Here is some of the best Classical French music.
  ii. A Modern Approach
Listening to the French songs of today will help you gain knowledge of pop culture references and will test your knowledge of modern, everyday French.
Oftentimes, when we learn French from a book or from an outdated course, we learn a version of France that may not be accurate with modern culture. Listening to the French music of today can change that.
Some popular artists that play often on the radio include Aya Nakumura, whose hit song "Pookie" took France by storm in 2019, Wejdene, and Vendredi sur Mer.
2. Watch Authentic French Cooking Tutorials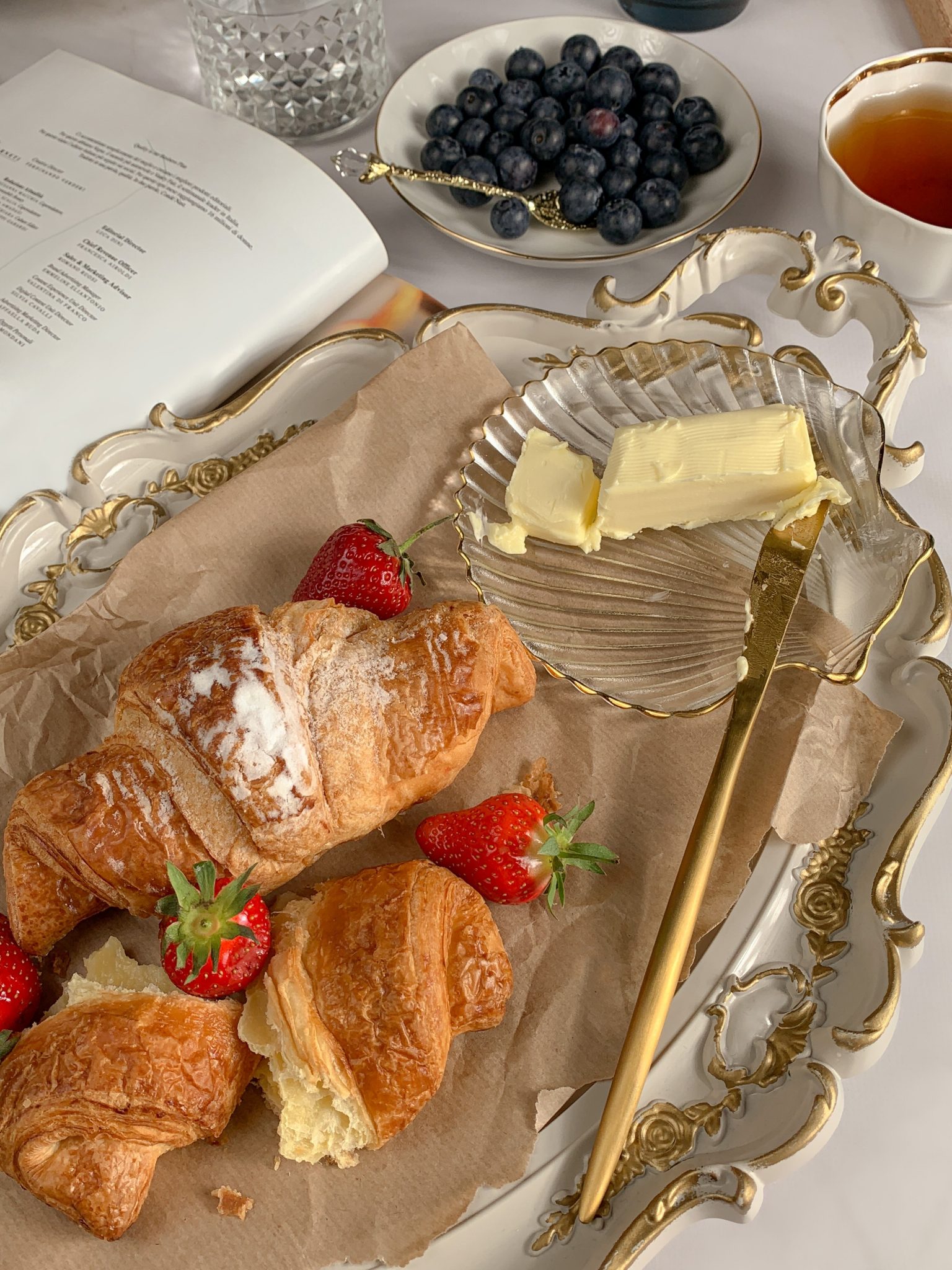 What better way to learn about French culture than learning about its cuisine! Nourriture, or food, is a big part of French culture. French breakfasts are synonymous with croissants, café au laits, fruit jams, and baguettes. Learning about French cuisine beyond its typical stereotypes can reveal a lot about the eating habits of the French (late dinners, long lunches, and an informal "snack time") and the staples of French culture.
  i. Where to start with your French cooking immersion?
Whether you choose to watch a cooking show, or a Youtube tutorial, the Internet is filled with ways you can watch French cooking videos. Cooking books such as My Paris Kitchen: Recipes and Stories, and Barefoot In Paris: Easy French Food You Can Make At Home are great cooking books to learn the best and easiest French recettes.
The French Cooking Academy YouTube channel is great for visual learners. So, the next time you go to France on a French immersion program or for a visit, you will be familiar with the food and can fit right in!
3. Watch French Youtubers
Of course, one of the fastest ways to immerse yourself in the wonderful culture of France is by actually watching the French people! Lucky for us, in the age of the internet, the world is quite literally accessible at the touch of our fingers.
In the wake of the Internet, we have vlogs, blog posts, and social media influencers who live in France, to provide us with an inside perspective. Youtubers like Piece of French and Not Even French are great places to start.
4. French Immersion Programs
A French immersion program is a surefire way to quickly immerse yourself into the French culture. Essentially, a French immersion program is an organized trip or program that is designed to expose you to as much of the culture as possible. This is great for both learning the culture and the language. You can check out our post on French immersion programs here.
There are many different factors when considering which program will be the best for you. For example, do you prefer a more educational aspect (though a language program) or pure immersion (a program that guides you in the country of France.)
Furthermore, some French Immersion Programs cater to specific types of people; some are for more adventurous people and some are catered towards introverts. Check out the Directory of Foreign Language Immersion Programs in U.S Schools for more information on different types of French Immersion Programs.
5. French Podcasts
Perhaps a more unconventional, yet extremely effective way, to immerse yourself in French culture is by listening to French podcasts, or French audio à la demande. These podcasts can help you practice your French so that if you decide to go to a French Immersion Program, you will be totally ready!
  i. Examples of French immersion apps
One podcast that I personally have tried and recommend is the Duolingo French Podcast. The premise of the podcast is to listen to the stories and lives of the French through French narration and occasional English commentary.
Episodes include stories of immigrants, bakers, students, and all demographics of French people to provide a more comprehensive picture of French culture.
Another example is the News In Slow French Podcast; a podcast that is exactly what it sounds like, a podcast where news is discussed in French at a speed and complexity perfect for French learners.
There are episodes for French beginners, intermediate French learners, and advanced French learners.
6. French Entertainment Media
(French Immersion Programs)

Lastly, watching French TV shows, or séries and movies are a great way to catch pop culture references, learn about the different cultures of France, and pick up French. Furthermore, learning about the casts of French TV shows and classic movies can help you learn further about French culture and the celebrity world.
You can even put your favorite English show in French subtitles or a French dub. Try watching Lupin, a popular new Netflix thriller series. If you decide to go on a French Immersion Program you will be well-versed in pop culture and can chat up the locals about the show!
A rather unconventional tip I have is to watch French children's cartoons, or dessin animé.
In children's cartoons, the plots are simple, engaging, and easy to follow; perfect for learning French. Cartoons like Oui Oui, Oggy Et Les Cafards and the iconic Les Aventures de Tintin are great shows!
Conclusion
Whether you are a more visual or auditory listener, whether you are jeune or old, there is a French immersion technique for you. By following these techniques, you will be all set to go for your trip to France or your French Immersion Program.
With the accessibility of the Internet, our tutoring services, and French Immersion Programs, there is a way to immerse oneself into French culture for everyone.
French Words used in the Article
Dessin animé = Children's cartoons
Séries = TV Shows
Jeune = Young
Recette = Recipe
Audio à la demande = Podcast
Nourriture = Food
Musique = Music
French Words to do with Culture
Actrice, Acteur = Actress, Actor
Société = Society
L'art = Art
Voyager = Travel
Célébrité = Celebrity
Artiste = Artist
Chanteuse, Chanteur = Singer
Livre = Book